Firestorm fought in every series of RW from 1 to 7. The flipper changed from low perssure to extremely high pressure in series 5 (citation needed).
Achievements
Edit
Firestorm came 3rd, beating Atomic into 4th.
In Heat D they fought Suicidal Tendencies, Bulldog Breed and Panic Attack in the first found and Bulldog Breed again in the heat final.
In the finals they fought Dantomkia and Ripper, eliminating Ripper.
They then fought Kronic, who they lost to.
In the 3rd place playoff they beat Atomic, to finish 3rd in the competition.
For series 2 Firestorm was seeded 3rd. They fought in the first round of Heat A. In that heat they fought DuckBill (11th seede), Yello and 101.
They reached the heat final with Mute 1, a robot with a similar style of weapon, and beat them.
In the first round of the semi finals, Firestorm fought Typhoon. Typhoon knocked Firestorm out with a KO. Typhoon went on to win that series of RW.
Evolution
Edit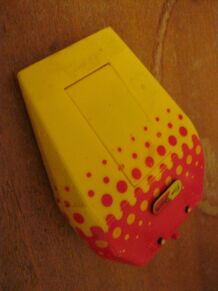 For series 3 Firestorm lost the large antenni for smaller internal ones. For series 5 (citation) the low pressure system was replaced for an extremely powerful high pressure system. The new system was so powerful that it could flip robots straight from the center of the RW arena OOTA.
Firestorm is retired now, but occasionaly appears for display purposes.
Ad blocker interference detected!
Wikia is a free-to-use site that makes money from advertising. We have a modified experience for viewers using ad blockers

Wikia is not accessible if you've made further modifications. Remove the custom ad blocker rule(s) and the page will load as expected.