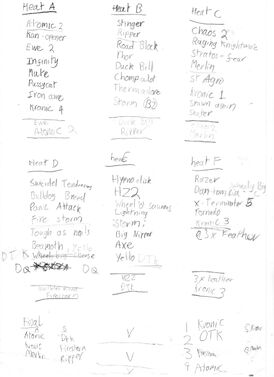 Winner:
Kronic
Runner up: Dantomkia
3rd: Firestorm
4th: Atomic
5th: Ripper
6th: Merlin
Kan Opener, Atomic 2, Ewe, Infinity, Mute, Pussycat, Iron Awe, Kronic (4).
Winner: Atomic 2. Runner up: Ewe
Stinger, Ripper, RoadBlock, Thor, DuckBill, Chompalot, Thermadore, Storm (B2).
Winner: Ripper. Runner up: DuckBill
Chaos 2, Raging Knightmare, Stratosfear, Merlin, St Agro, Kronic 1, Spawn Again, Skater.
Winner: Merlin. Runner up: Chaos 2.
Suicidal Tendencies, Bulldog Breed, Panic Attack, Firestorm, Tough as Nails, Beahmoth, Yello, PianoMan.
Winner: Firestorm. Runner up: Bulldog Breed.
Hypnodisk, Terrorhurtz, Wheen O Saurus, Lightning, Storm, Big Nipper, Axe, Dantomkia.
Winner: Dantomkia. Runner up: Terrorhurtz.
Razer, Wheely Big Cheese, X-Terminator, Tornado, Kronic 3, 3x Feather.
Winner: Kronic 3. Runner up: 3x Feathers.
The first round of the finals took the form of two 3 way melees where the first robot eliminated was out, and the other two went through to the next round. After that it was 1 on 1 fights with
Eliminated: Merlin
Dantomkia V Firestorm V Ripper
Eliminated: Ripper
5th Place Playoff: Merlin V Ripper
Winner: Ripper
Grand Final Qualifiers
Edit
Atomic V Dantomkia . Winner: Dantomkia
Firestorm V Kronic. Winner: Kronic
3rd Place Playoff: Firestorm V Atomic
Winner: Firestorm
Grand Final 1st Wars
Edit
Winner: Kronic
Ad blocker interference detected!
Wikia is a free-to-use site that makes money from advertising. We have a modified experience for viewers using ad blockers

Wikia is not accessible if you've made further modifications. Remove the custom ad blocker rule(s) and the page will load as expected.